Needless to say the weather in Phuket can play a significant role in your holiday experience, though the best time to go can be a relative term. The climate here IS the same tropical conditions you will experience when traveling anywhere else in the south of Thailand. Important to note is that different areas or regions do not experience the same weather conditions or seasons during the same times of year. Rainy Season in Phuket does not mean rainy season in in Chiang Mai for instance.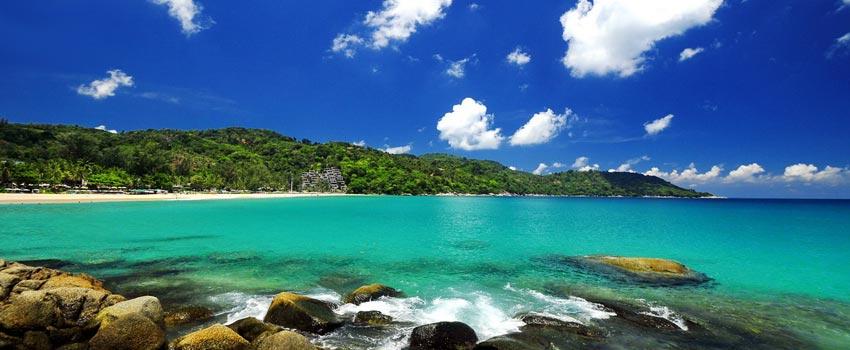 When you should go depend on personal preference and no bad time really exist. Unless you are here for some scuba diving and need calmer seas and clear underwater visibility you can have a fabulous holiday any time of the year. Temperatures average anything from 24 to 32 degrees Celsius and water temperature a steady 27 to 28 degrees all year round.
November to March sees the least rain. Temperatures are a cooler 27/30 degrees Celsius from November until January with lower humidity brought about by cool breezes which make things more comfortable.
The hottest weather is from March to end May seeing temperatures as high as 36 degrees Celsius and a 27 degrees Celsius minimum. The heat is regularly interrupted by short thunder showers, bringing some relief from the high temperatures.
June to end October is low season due to higher rainfall. The up-side is that great holiday deals will be up for grabs during this time. Short and heavy bursts of rainfall is experienced during this time with plenty of sunshine between showers. Still a good time to visit Phuket with temperatures varying between 20 to 32 degrees Celsius.
September and October is warm, but this is the wettest time. The thunder storms experienced during this time has a wonderful cooling effect and of course most importantly, much fewer tourists meaning much less crowded beaches, restaurants and bars and lower accommodation prices while you will still experience plenty of sunshine. Expect average temperatures around 32 degrees Celsius. Seas are rougher and could see boat trips canceled. If island hopping is part of your plans, keep this in mind.
The fact is, weather in a tropical climate is tough to predict. You could visit Phuket in June or August for a week and not see a drop of rain, while during April there may be a shower or two, though chances are slim. Naturally, if you want to go scuba and need good underwater visibility, the best time in Phuket would be November to April which generally sees calm sea conditions.
---
FIND BETTER HOTEL PRICES WITH US ANY TIME OF YEAR
Bangkok

Hua Hin

Phuket

Koh Samui

Khao Lak

Chiang Mai

Krabi

Koh Lanta