Looking at a map of Thailand you will find that at 513,120 square kilometers the country is the 50th largest in terms of landmass. This means there are plenty of places to go, things to see and do and islands to discover. The climate is generally tropical and prone to monsoons in the months of May to September, as well as November to March.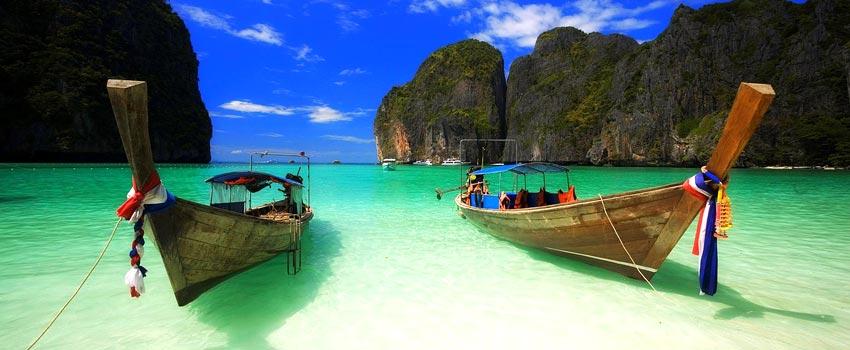 The scenery is incredibly diverse with the northern part of the country given over to mountainous terrain that peaks at 2,565 meters above sea level. This is where the historical heartland with the northern capital namely Chiang Mai is located revealing enchanting nature scenery. To the west of Chiang Mai on the north western corner is Chiang Rai from where you can access the Golden Triangle which sees the borders of Thailand, Myanmar and Laos meet and where the Mekong River meets the Ruak River. 
Isaan, in the northeast, consists largely of the Khorat Plateau, an area which is on the rise on the travel and tourism radar. It features areas such as Loei and Buriram which the Thai Tourism authorities are starting to develop and promote. The centre of Isaan is dominated by a river valley that runs into the Gulf of Thailand, covering a whopping 320,000 square kilometers and is fed by the Chao Phraya, Mae Klong, Bang Pakong and Tapi Rivers. In the south we find the Malay Peninsula.
In the central part of the country the nature of places like Pitsanulok, the historical importance of Ayutthaya and just west of that the forest parks, rivers and waterfalls of Kanchanaburi are all must-visit locations.  If you follow our map to the south tourist areas drawing the biggest numbers are Phuket, Phi Phi and Koh Lanta located on the west coast in the Andaman sea as well as Krabi and Khao Lak on the south west coast of the mainland.  To the south east Koh Samui, Koh Tao and Koh Phangan is located.
While a map covering the tourist trail may be useful if you plan to explore the country on your own steam, finding your way around is normally pretty easy. Nevertheless, we would love to hear from you so please do not hesitate to contact us at The Best Hotels in Thailand directly should you have any further questions about the areas you plan to visit.
---